Best Rental Service Apartments In Pune For Short/Long Stay
We offer the finest rental service apartments Pune. Our offering includes Home rentals, holiday homes filled with leisure and perfect accommodation for corporate executives or families seeking an extended stay entirely managed serviced apartments in Pune. In our services, we are far different from others as our accommodations are completely private and non-sharing with fully equipped kitchen. Olive apartments are readily available for flexible rentals at daily, the weekly or monthly basis for shorter/long stay. Olive serviced apartments are the only apartments which give home kind of environment and great alternative option for visitors who spend a huge amount of money while staying in hotels and cramped guest houses.


Completely Furnished Apartments
We offer our guest's fully furnished apartments with a custom designed room which is well equipped with the unique modular kitchen. Apart from this, guests need not worry about the cleanliness, towels and change of bed sheet as we take care of our guest once they are at Olive. Our service apartments Pune have Tata Sky and free wifi connection so that they feel like home when they are away from home.
Reasonable Pricing
There are no hidden charges as we have mentioned about our rentals in addition to their inclusion and exclusions. However, we also give special discounts to our guests who wish to have an apartment for a longer stay. We have the easiest way to book rooms with immediate confirmation of apartments in Pune.
Experienced staff
To cater the need of every guest, we lay stress on our hospitality team who is always available on call for answering all your pre and post booking queries. Our trained professional team will be 24X7 available at your service.
Kindly contact us on 91 9015080080, to book weekend packages, and unique extended stay offers on rental service apartments Pune
Serviced Apartments in Pune – Available @ Olive
---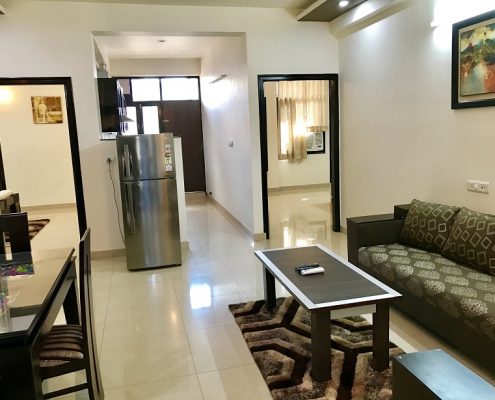 Two Bedroom Apartments
Our top most rental apartments are built in an area of 950 sq. ft. & are mainly designed for small families as well as a group of travellers, the apartment consists of Two bedrooms with king/queen beds and two bathrooms, a living room with comfortable and attractive dining table & a fully equipped kitchen for cooking.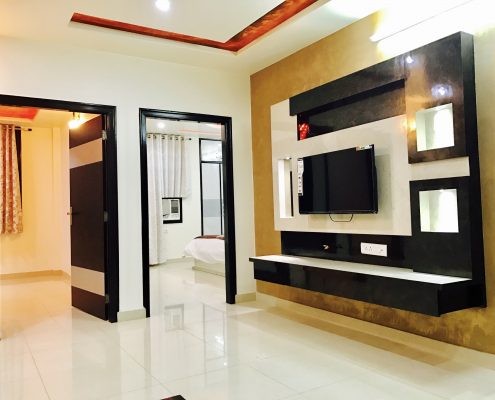 Three Bedroom Apartments
Considering the needs of large families as well as corporate groups, Olive provides a luxurious Three bedroom apartment which is built in an area of 2200 Sq. ft. & it has King/Queen/Twin Bedding including three bathrooms in addition to spacious living room, dining area with fully equipped modular kitchen.
About Us
Olive house rent in Pune is fully furnished service apartments located at various peaceful places in Pune. We offer 1/2/3 BHK apartment which comes with the fully loaded kitchen to give the feeling of home to our guest when they are away from home. We aim to give 100 percent satisfaction to our guest who visits the city of Pune for work or vacation.
Accessible in all sizes

We have a capacity of Deluxe rooms with BnB plan, and we offer non-sharing one bedroom, two bedrooms and three bedrooms serviced apartments obtainable with pliable rentals.

Separate Kitchens and Living Rooms

Kitchens have been considered the most important aspect for any guests and all our serviced apartments (1,2 or 3 bedroom units) have single kitchens with the facility of stovetop and all cookware and couch seating facility in living rooms.

Cleaning & Linen Changes included

Rentals include complimentary Housekeeping services, Towels and Bed sheet changes which our team keeps on replacing from time to time.

A team of expert in hospitality

Hospitality team will provide their 24*7 assistance to our guests to ensure a hassle free stay in our accommodation.
Perfect and suitable location with excellent facilities including kitchen and staff which is always available on the phone. We are very happy with olive service apartments in Pune and from their team of employees.

I could have never asked more than this as I got the apartment at the most decent price. The apartment is full of luxury and staff is always on their toes to serve their guests in best possible ways.

These service apartments in pune are fantastic and comfortable as I could not believe that we are staying in most luxurious apartments of Pune. The cost of stay of these apartments is too less as compared to hotel.

Olive apartments are best apartments in Pune. The host of these apartments were extremely helpful and available 24*7 for us. Location of these apartments is best, and no one can get stuck in a jam like in other cities. I am extremely delighted and thankful to Olive apartments.

Apartments are spacious and clean enough. All kind of bars and restaurants are at the nearby location of apartments. My trip was most memorable trip of Pune all because I got the chance to stay in Olive apartments.

I am lucky and honoured while staying in Olive apartments in Pune. Few years back when I went to Pune, I stayed in some hotel and paid too much money on a daily basis. But now Olive made me feel so happy and joyful that I got the accommodation at very reasonable rates.
Highly rated on Trip Advisor
We are pleased to tell that we have been consistently receiving appreciation reviews on TripAdvisor and other travel booking websites. However, on a daily basis, we get positive feedback messages on facebook and twitter from our esteemed guests.
100% Refund
In case if our guests would get unhappy with our services then Olive promise to return their money without asking any question to our guests.
Lowest Price Guarantee
We are giving the best room facilities at the lowest price for our guest
No hidden charges
There are no hidden charges in the amount we charge and all the charges are inclusive of tax.
About the city of Pune
Pune is the second largest town in the state of Maharashtra and the ninth most populous city in India. Pune is considered among the cultural town of Maharashtra in India. In the 18th century, Pune was known among one of the biggest political centres in India and Peshwas was the prime ministers of the Maratha Empire. Khandala and Lonavala are the two perfect getaway destinations of Pune which attract tourists from different parts of India.Pune is the second largest town in the state of Maharashtra and the ninth most populous city in India. Pune is considered among the cultural town of Maharashtra in India. In the 18th century, Pune was known among one of the biggest political centres in India and Peshwas was the prime ministers of the Maratha Empire. Khandala and Lonavala are the two perfect getaway destinations of Pune which attract tourists from different parts of India.
Popular places to Visit
For travelers:
Aga Khan Palace
Shaniwar Wada
Parwati Hill
Mulshi Dam
For Business Executives:
Hadapsar, MagarPatta City
Kharadi, EON IT Park & World Trade Center
Hinjawadi, Phase 1, 2,3 & Quadron Business Park
For Medical Tourists:
Ruby Hall Clinic, Sassoon Road
Jehangir Hospital, Sassoon Road
Deenanath Mangeshkar Hospital, Erandawne
KEM Hospital, Rasta Peth
History of Pune
The history of the Pune is closely related to the rise of the Maratha of the 17th and 18th centuries. In the 18th century, Pune was the major political hub of the Indian subcontinent. Peshwas who were the principal ministers of the Maratha Empire, seated in Pune. However in 1818 after the fall of Peshwa rule, the new British rulers made the city one of their major military bases.
Before British takeover, the city was confined to the East bank of the Mutha river. Since then, the city has grown on both sides of the river. In the 19th and 20th century, Pune was also considered by the British as the centre of political unrest against their rule.
Pune is 560 m above the sea level on the western margin of the Deccan Plateau. It is a beautiful hill city, with its highest hill, Vetal Hill rising to 800 m (2,600 ft) above sea level. Sinhagad Fort is another major attraction hub for tourists, and the fort is located at an altitude of 1,300 metres (4,300 feet).
OLIVE SERVICE APARTMENTS IN PUNE
Olive serviced apartments are among one of the leading names in the serviced apartments industry of India. We have our presence in all major cities across nation including New Delhi, Gurgaon, Hyderabad, Jaipur besides Pune. Olive serviced apartments are popular among travelers / visitors who wish to opt for rent apartments in Pune which is much reasonable (in terms of price) & spacious accommodation option as compared to hotel rooms, the offering includes Deluxe rooms, Studio apartments, 1, 2 & 3 BHK apartment for rent. Olive offers Service apartments in Pune & its one of the fastest growing chain of self-catered Serviced Apartments in the country.
Discussing the USPs of our offerings / apartments, we have non-sharing, independent service apartments with individual kitchens. We are self-catered, & our apartments includes all kind of facilities, like Washing Machine, cooking, WiFi Internet and Flat Screen TV with Tata Sky. These apartments are more like holidays homes in Pune which are backed by a professional team of experts in hospitality industry who take care of these service apartments in Pune.
Discussing the facilities offered by Olive serviced apartments pune (
vacation home rentals
), we offer amazingly designed apartments with King/Queen size bed, attached bathrooms, Flat Screen TV with Tata Sky. Our 1, 2 & 3 Bedroom Apartments have spacious living / sitting area capacity along with individual fully loaded Kitchen. One can get an experience of serene and peaceful ambience with complete privacy. Adding more comfort to you stay. All our room and apartments are having Noiseless Split Air Conditioners / ACs of Daikin. Our service apartments in Pune promise to give twenty-four hour supply of hot and cold water in bathrooms.

Internet connection is the need of today's time and to fulfil the need of better internet connection we have connected entire apartments with high speed of WiFi. To maintain the hygiene in apartment's special attention has been given towards the cleaning and regular change of bed sheets, towels by our dedicated team. Electricity cuts are kind of common in India no matter where you go, but our customers need not to worry about the same as we ensure for 100 percent power backup service. Car parking can be easily done in our apartments, though most of the lodges and hotels in Pune don't have enough parking lots which sometime creates an issue for travelers.

Olive service apartments in Pune have a lot more to offer, we have a wide range of accommodation options which are designed to fulfill the need of every kind of traveler, these fully furnished service apartments / luxurious apartments are available for all kind of purposes, including short term stays (say for couple of days to weeks) or extended ones (for couple of months) as well. It is a fact that our rent apartments in Pune are far better and pocket-friendly to people than any other hotel stay.

The best part of our services is we offer fully loaded kitchens in all our apartments, which includes Cooking Gas, cookware, Refrigerator, Microwave, etc. To add more comfort for our guests, Olive serviced apartments included spacious living rooms with couch seating and dining table. We believe in giving value for money to our guests & provide them a home-like environment.
1What are the various accommodation options available for guests?
To cater the needs of our guests, Olive service apartments offers different sizes of units/service apartments which includes: Studio Apartments in Pune, One Bedroom Apartments with Living Rooms & Kitchens, Two bedroom apartments that comes with more spacious living room with dining area apart from the fully equipped kitchen & the most luxurious & spacious, Three bedroom apartments. We would also like to tell you that Studio apartments for rent in Pune are our one of the hot selling apartments & its suitable and comfortable for small families and/or couples.
2What are your USPs & are there any discounts for long stays?
Our apartment's USP is to offer rooms with unique designs and space to bring comforts at the most affordable prices. For the convenience of our guests, there is a flexibility of stay duration as guests can rent by the day, week or month. We have discounts on rentals for Weekly & Monthly to our guests who desire for long-stay. Our apartments are popular among masses as it is considered as holiday homes in Pune.
3Who are the typical guests of our apartments?
We would like to tell you that our team is capable enough to serve all kind of guests & our typical guests are leisure travelers, business executives/travelers as well as media tourists as our service apartments are equipped with facilities to fulfill the needs of any kind of traveler / guest.